50 jaar Logos
Het LP-boek '50 jaar Logos' werd gepubliceerd naar aanleiding van de 50ste verjaardag van de stichting. Het boek bevat bijdragen van auteurs die terugblikken op hun ervaringen bij Logos.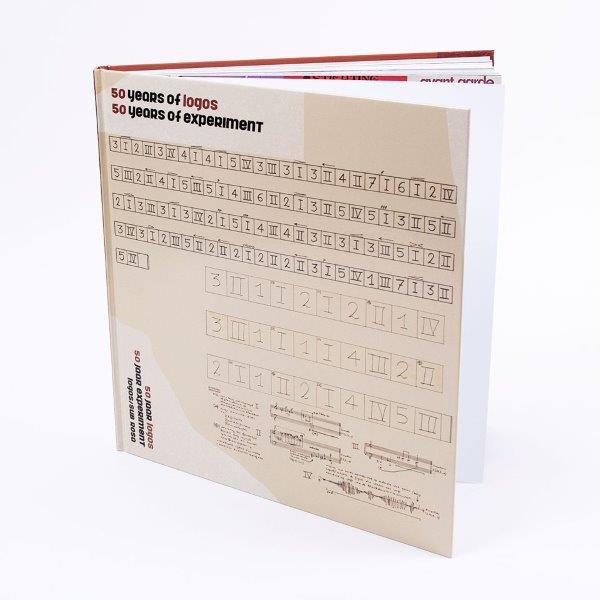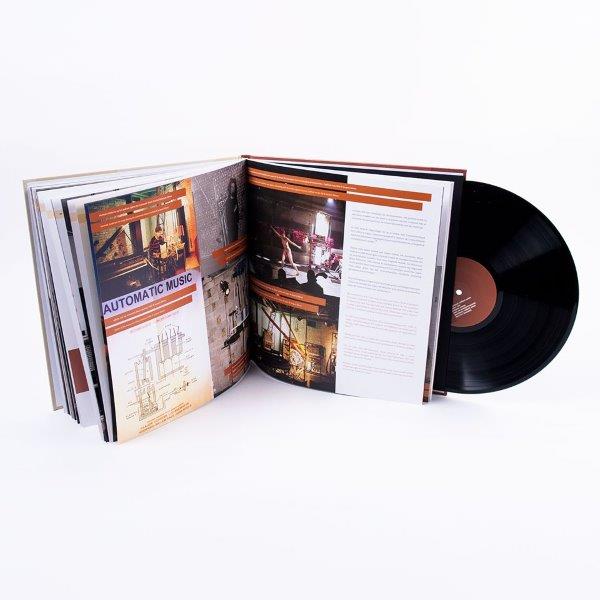 Auteurs: Jean Paul Van Bendegem, Warren Burt, Moniek Darge, Laura Maes, Dirk Moelants, Douglas Quin, Jacques Rémus
Componisten op de LP: Attr-X, Kris De Baerdemacker, Moniek Darge, Kristof Lauwers, Logos Duo, Logos Ensemble, Logos Women, Laura Maes, Godfried-Willem Raes, Xavier Verhelst
Meer informatie en bestellen: https://logosfoundation.org/50jaarlogos/
UNDÆ! Electroacoustic Music I
| | | |
| --- | --- | --- |
| | | Undae! Electroacoustic Music I and II is een compilatie album met composities ingezonden voor de call for works 2014-2016 vn het programma Undae Radio op Radio Circulo. Het album bevat elektroacoustisch werk van componisten van overal ter wereld in uiteenlopende stijlen. Het eerste album bevat werken van Maxime Barthélemy, Jason Bolte, Thomas V. Christie, Alberto Quintana Tauler, ElectroCaustic Trio, Kosmas Giannoutakis, Kaoshipnótico, Kristof Lauwers, Felipe Otondo, Juan José Raposo, Sol Rezza, Shaun Robert en Julian Scordato. |
LPD019: Lonely Robots
On this seventh CD by the Logos M&M ensemble, a collection of newly built machines are presented individually. Where other CD releases give ample examples of what can be done when the robots come together to form an orchestra, this CD demonstrates the capacities of the new robots playing solo or as duos.The M&M orchestra is a professional group of dancers, performers, composers and musicians focusing on the interaction between man and machine, which has its permanent residence at the Logos Foundation. The machines are all electro-mechanical robots designed and built by Godfried-Willem Raes.This CD reflects a momentary mid-2010 snapshot of the ongoing efforts of this unique ensemble to redefine musicianship.
Building musical robots has been an ongoing activity in the Logos Labs since its very beginning in the late sixties. It is one of the many results of our investigations into the development of new tools for musical expression.All music on this CD is in the public domain. It can be freely distributed, even in public spaces, and can be broadcast provided the origin and the authors are always mentioned and given credit.
KRIKRI 2005 – Polypoetry
Tracklisting:

| | | |
| --- | --- | --- |
| 1 | Maram Al Massri | Poems from 'Cerise Rouge Sur Un Carrelage Blanc' (3:58) |
| 2 | Duo XXI | Agua, Donde Vas? (4:31) |
| 3 | Kenneth Goldsmith | 1933 (3:13) |
| 4 | Joachim Montessuis | Jooyaou 23 (Uommo Pedowacko Oolga Wou-oua Waam) (6:19) |
| 5 | Els Viaene / Herman Sabbe | 4'33" (4:33) |
| 6 | Jerome Rothenberg | Horsesong (7:18) |
| 7 | F'loom | Starhums (4:39) |
| 8 | Dirk Veulemans | Spreken In Tongen (10:55) |
| 9 | Kristof Lauwers | Thintroppoinmealways (6:34) |
| 10 | Bassam Barrak & Jahida Wehbe | Mother (4:55) |
| 11 | Michele Marelli & Paolo Boggio | Oskar's Dream (9:29) |
| 12 | Jelle Meander | Lan.schnitt (3:00) |
| 13 | Jelle Meander | Spiegel Van Alles 1e (0:17) |
| 14 | Wrong Object, The | GWB's Favorite Things (4:44) |
LPD014: <RoBodies>
| | |
| --- | --- |
| | Het M&M ensemble is een groep performers, componisten en musici die zich werken rond de interaktie tussen mensen en machines. De machines zijn elektromechanische robots ontworpen en gebouwd door Godfried-Willem Raes. Op deze CD vormen de robots een heus orkest. In sommige stukken worden de robots puur algoritmisch aangestuurd (Plastic Deformations van Kristof Lauwers and Amorgós van Jelle Meander). In andere stukken reageren de robots op de handelingen van performers, via de analyse van instrument-of stemklanken, zoals in Klanklagen en RobotGarden, twee collektieve komposities van Moniek Darge en Kristof Lauwers, of via bewegingssensoren, zoals in verschillende komposities van Godfried-Willem Raes. |
LPD012: More Automats
Het ontwerpen en bouwen van muzikale robots in het unieke atelier van Stichting Logos is een logisch uitvloeisel van haar experimenteel wetenschappelijke inzet voor de ontwikkeling van eigentijdse werktuigen voor muzikale expressie. Het volgt als het ware logisch uit de hedendaagse instrumentenbouw zelf. De op deze CD gedokumenteerde automaten zijn zuiver akoestisch: snaren, klokken, fluiten, buizen, hout…. alleen de bespeling ervan gebeurt integraal langs elektromechanische weg en wordt gestuurd vanuit speciaal daarvoor bij Logos ontwikkelde software.
Naast kompositiens van Sebastian Bradt, Barbara Buchowiec, Moniek Darge, Kris De Baerdemacker en Godfried-Willem Raes, bevat deze CD mijn stuk SPHK, voor automatische saxofoon en een improvisatie op de <Thunderwood> robot. ordering information
LPD008: <M&M>
| | |
| --- | --- |
| | Het M&M ensemble is een groep performers, componisten en musici die werken rond de interaktie tussen mensen en machines. De machines zijn elektromechanische robots ontworpen en gebouwd door Godfried-Willem Raes. Op deze CD vormen de robots een heus orkest. In sommige stukken worden de robots puur algoritmisch aangestuurd, in andere stukken reageren de robots op de handelingen van performers, via de analyse van instrument-of stemklanken of via bewegingssensoren. |
Kitch 'n' glitch
| | |
| --- | --- |
| | Voor het project KitchenGlitch namen Kristof Lauwers en Laura Maes allerlei geluiden op in en rond de keuken, die in een elektroakoestische kompositie werden gegoten. De meeste geluiden werden grondig bewerkt en gemanipuleerd, andere blijven herkenbaar, maar krijgen buiten hun normale context een heel nieuwe dimensie. |
LPD003: <Ea>
Elektro-akoestische komposities uit de Logos Studio
Werken van: Kris De Baerdemacker, Godfried-Willem Raes, Kristof Lauwers, Moniek Darge & Francesca VerbauwhedeEa vinden we in de Mesopotamische mythologie terug als aarde- en watergod, maar ook als god van de wijsheid en bron van alle magie.
'De Watergod, Ea, was de eerste van de nieuwe Babylonische goden. De oudere goden waren verstoord door het lawaai van de jongere en beraamden een plan om hun nakomelingen te doden. Maar Ea, als god van de wijsheid, doorzag hen en als voorvechter van de zuiverheid schakelde hij de oude goden van de Babylonische Scheppingslegende, te beginnen met zijn eigen moeder, uit door een krachtige toverspreuk.'
'Maar Ea was ook de god van de wijsheid wiens jaloezie de mensheid, te beginnen met zijn eigen zoon Adapa of Adam, de eerste mens, het eeuwige leven via een list ontzegde.' ordering information
This post is also available in: Engels